ePN Campaign Performance Report for eBay Affiliates
Now, get more useful numbers from your ePN reports!
Have you ever wished your ePN reports gave you more and better information than just the raw numbers of Impressions, Clicks, Winning Bids, and so forth?
I know I have. I would like to see numbers like click-through rate, percent of clicks that bid or buy, average sale amount per purchase, and other relative values like that, to enable me to compare performance among my various eBay ePN campaigns.
Especially since ePN's new QCP system makes the ECP and Earnings columns meaningless for any campaigns that average less than about 40 clicks per day, we need to look at different numbers to evaluate our campaigns' performance. Numbers like Bids per Click, Winning Bids per Bid, Winning Bid Revenue per Click, GMB per Click, and GMB per Sale. Or how about an "extended EPC" that shows you your EPC calculated out to 4 decimal places?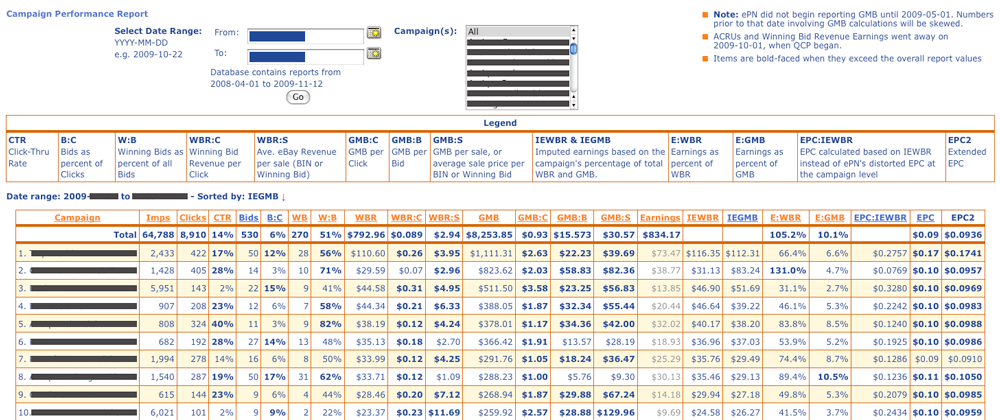 So I wrote myself some code to retrieve all my ePN reports, dump them into a database, and give me reports with the kind of information I want.
I'm offering this report for free so that you can use it, too. It comes with easy installation instructions, and uses your own database, so you know your information is confidential and secure. Just download the file, unzip it, and follow the step-by-step instructions in the ReadMe file.